I'm starting off the new year with a writer's tag. Why? It's an easy and fun way of laying all of who I am in a single blog post (as best as a 10-question tag can allow).
Why this tag? A year ago, I saw Kim Chance's video of this tag, and I always told myself I'd entertain myself with answering these questions as well.
Also, it makes me smile for a completely non-writing related reason.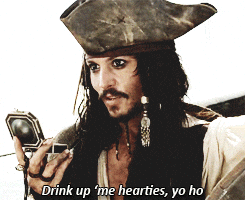 Let's answer some questions, shall we?
1. What kind of writer are you?
I am a fantasy, young adult/adult writer who enjoys writing in the dead of night when I should be sleeping. Though I've dabbled in all different kinds of genres, fantasy is the one that holds me hostage in its magical chains. The reason can be plainly yet best explained by Lloyd Alexander who said,
"Fantasy is hardly an escape from reality. It's a way of understanding it."
2. When did you start writing and what made you want to try it?
The easy answer is that I was an only child who eventually learned how to speak English.
My first language is Spanish, but when I learned English, I became very interested in language. I started writing short stories and poetry when I was in the second and third grade.
I also spent a lot of time on my own as a child, so when I had nothing to do, my hobby became writing. I would come home from school, and I'd write a chapter of whatever story I was working on. Never did it cross my mind to become published until my senior year in high school.
3. What inspires your stories?
Often times, music and art inspires me. I listen to a lot of film scores, video game OST's, epic trailer music, etc. I also look for artwork that helps spark my inspiration. Once in a blue moon, I'll have a very vivid dream that wakes me up and that is when I feel most compelled to jot some sentences down. I swear, it's the moon messing with my head.
4. What themes do you explore in your writing?
I tend to explore big questions that I'm currently tackling in my own life, things like legacy, identity, pride in one self. These are usually things I spend a lot of time thinking about, making my brain heavy with all these thoughts. My novels are a way for me to better understand and organize them.
5. Are you a plotter, pantser, planters?
I am a pantser trying to learn how to be a plotter for the sake of bringing ease into my life. Thinking it through, I think it's because my writing journey started as a classic pantser move. I'd come home from school ready to write a chapter based on whatever I felt like writing about at the time, somehow making it mix in with all the madness of the sorry excuse for a plot. When I go back to read my old stuff, there's a moment of cringing with a sympathetic grin for my past self right afterward.
6. Where are you in your writing journey?
I am putting on my scuba-gear to prepare for a deep dive into the query trenches. It's always been a dream of mine to be traditionally published, so I'm working hard this year to find myself an agent.
7. Have you entered any writing contests? Did you win any?
I have entered a few writing contests, but no wins yet. Sad face. No, that's not true. It's always fun to enter a contest, but I always go in knowing I won't win, so when I don't, I know I tried. If I ever do, well, that'll be a nice surprise, won't it?
8. Who are your writing heroes?
Honestly, the beautiful faces that make up the AuthorTube community. Authors like Kim Chance, Jenna Moreci, Mandi Lynn, Kristin Martin, and so many others constantly remind me to keep working toward my dream.
Also, Patrick Rothfuss. He's a fantasy genius.
9. Have you been to a writing conference?
I have not, though I'm really trying to go this year. I have been to a few writing retreats though, and those are always so inspiring and re-energizing for me.
10. What are your top 3 writing tips?
Write what you want to read.
You don't have to write everyday, but you definitely should read every day.
Use the oxford comma. Don't use the oxford comma. Whatever. Just be consistent.
Thanks for giving this a read. I appreciate it. I hope your next writing session goes smoothly!